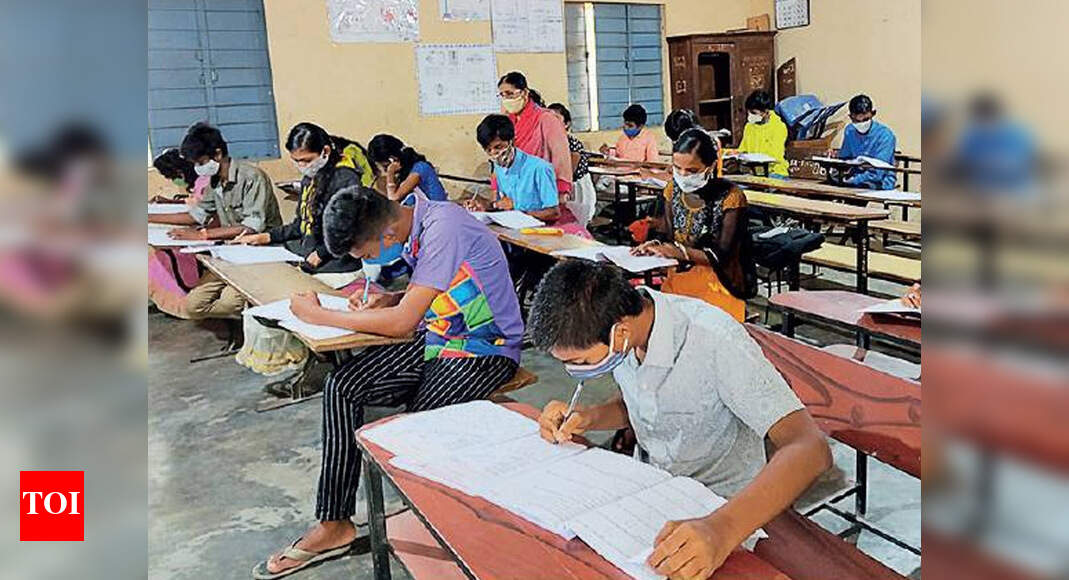 BENGALURU: With the government deciding to press ahead with SSLC exams on a new format — multiple choice questions — some schools, both private and state-run, are calling students to campuses to train them to use OMR sheets.
Teachers say students require hand-holding since most do not know how to use OMR sheets. OMR (or optical mark recognition) sheets require students to answer MCQs by marking designated areas on the scripts. The sheets are machine-evaluated.
Although the government has not yet formally allowed physical opening of schools, institutions are training students on campuses.
"They have never taken a test in this format," said the founder of a chain of schools in South Bengaluru. "Students are already stressed and under pressure due to the prospect of taking board exams. The big worry is that they could lose marks simply because they coloured the areas incorrectly. We intend to orient them before they actually take the test."
Schools say they will continue holding mock exams on campuses in the run up to the boards. For example, a school in Varthur, Bengaluru, has already conducted one round of model exams in the OMR format and plans to conduct another round on campus soon.
"We follow all safety protocols like hand cleanliness and social distancing," the principal said. "Students have been grouped in batches of 25. This format is new, so they need help. Parents are fine with sending them to school as they too are concerned about the exam."
No room for mistakes
The biggest concern, teachers say, is that students have been asked to use ballpoint pens. This means there is no scope to rectify mistakes.
"If they make a mistake in the order of questions marked, it will lead to incorrect marking in subsequent questions too," said BR Supreet, secretary, Oxford institutions, Ullal. "My request to the government is to allow students to use whiteners. Since each room will have only 12 students, invigilators can carry the whitener and hand it over to students who need it. It will reduce the fear factor among students to a large extent."
He said if government schools can call students to campuses, private schools should be allowed too.
However, the education department says schools cannot call students to campuses in groups. "Schools should exercise caution and not allow students in groups on campuses. It's not permitted. They can train the students online," said V Anbukumar, commissioner.
SSLC exams are scheduled to be held on July 19 and 22. The first day will have core subjects, while language papers will be held on the second day. The question paper will have three sections of 40 questions each for each subject.