Small & Midcap Mantra | This Small Cap Company Owned By Ashish Kacholia And LIC, Rallies Over 400% In Last One Year
It recorded the highest ever consolidated revenues of Rs 989.03 crore in FY21, growing 6.9 % YoY, due to improved product and market mix
June 08, 2021 / 12:13 PM IST
Hester Biosciences Q4 result:
Hester Biosciences has reported Q4 net profit at Rs 9.7 crore versus Rs 2.7 crore in a year ago period.
Revenue of the company was up 47.2% at Rs 64.2 crore versus Rs 43.6 crore.
Hester Biosciences was quoting at Rs 2,844.80, up Rs 86.15, or 3.12 percent on the BSE.
June 08, 2021 / 12:02 PM IST
Market at 12
Benchmark indices were trading lower with Nifty holding above 15700.
At 12:01 IST, the Sensex was down 108.47 points or 0.21% at 52220.04, and the Nifty was down 38 points or 0.24% at 15713.70. About 1492 shares have advanced, 1337 shares declined, and 101 shares are unchanged.
Britannia Industries, HCL Technologies, Tech Mahindra, Infosys and Tata Consumer Products were among major gainers, while losers were Hindalco Industries, Tata Steel, JSW Steel, SBI and ICICI Bank.
Metal and PSU Bank indices shed nearly 2 percent each, while IT index added over a percent.
June 08, 2021 / 11:59 AM IST
Gold Updates:
Gold prices edged lower on Tuesday, weighed down by an uptick in the dollar, while investors cautiously awaited U.S. economic data due later this week to gauge inflationary pressure and the Federal Reserve's steer on monetary policy.
June 08, 2021 / 11:54 AM IST
Hospital stocks in focus:
Hospital stocks are in focus after Prime Minister Narendra Modi on June 7 announced free coronavirus vaccination for all aged above 18 under the programme which will be sponsored and executed by the central government.
The prime minister said the centre, as part of the new vaccination strategy, would procure 75 percent of the vaccines, whereas, the private sector would be allowed to purchase 25 percent of the vaccines. Rs 150 can be the service charge imposed by the private sector for the overhead charges, he added.
According to experts, this is largely negative for private hospitals and could impact their profitability.
June 08, 2021 / 11:46 AM IST
Nifty PSU Bank index shed over 1 percent dragged by the Bank of Maharashtra, Bank of India, Canara Bank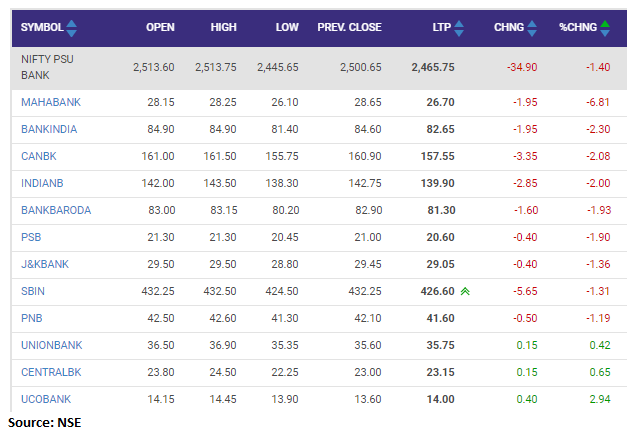 June 08, 2021 / 11:31 AM IST
V K Vijayakumar, Chief Investment Strategist at Geojit Financial Services:
The outperformance of the broader market, though desirable, is becoming a bit excessive. While Nifty is up 12.66% YTD, Nifty Mid-cap & Nifty Small-cap indices are up by 28.97% & 35.77 % respectively YTD. The problem with the broader market is that the crash in prices would be disproportionate during a bear phase since the broader market lacks depth.
The outperformance of the broader market is largely driven by retail investors particularly the new breed of retail investors who have entered the market post the lockdown. Retail investors chasing low-quality names in the broader market will come to grief. Broader market shakeouts are inevitable. The ideal strategy would be to invest in mid & small-caps through mutual fund SIPs.
June 08, 2021 / 11:24 AM IST
Rupee Updates:
Indian rupee is trading flat at 72.83, amid volatile trade seen in the domestic equity market. It opened marginally higher at 72.78 per dollar against previous close of 72.81.
June 08, 2021 / 11:20 AM IST
AnandRathi maintains buy on MRF:
We continue to be positive with regard to the outlook for MRF across segments. We expect the demand momentum to continue as we are experiencing unlocking of lockdowns starting today in the South and in some parts of the country.
We expect Q2 FY22 demand to grow strongly with expected normal operations at MRF. We expect revenue to grow 25% y/y in FY22. We continue to be positive on the stock, with a buy rating at a target price of Rs 96,217 (20x FY23e).
June 08, 2021 / 11:15 AM IST
With Unlock Theme In Focus, Foreign Investors Lap Up Banks, Metals And Power Stocks In May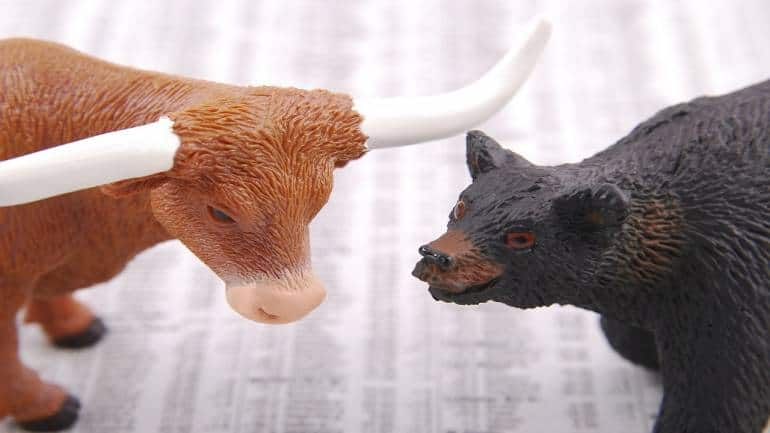 As per NSDL data, in June so far FPIs have pumped in Rs 9,058 crore into the Indian financial market on a net basis. Foreign portfolio investors cut defensive bets and added high beta names, noted an…
June 08, 2021 / 11:11 AM IST
SEBI directs debt mutual funds to specify the maximum risks they can take
In a bid to further empower debt fund investors, Securities Exchange Board of India (SEBI) has come out with a mechanism that defines the maximum quantum of risk a scheme can take.