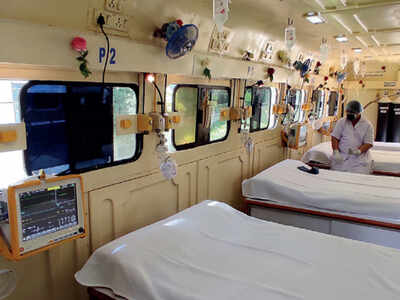 KSRTC's 'ICU on wheels' initiative was launched on Wednesday. An old bus has been converted for the purpose
BENGALURU: The department of primary and secondary education will form an expert committee to draft guidelines on how formal teaching can take place in the upcoming academic year starting in June. On-campus classes are unlikely to resume in the initial months of the school calendar as Covid-19 cases are still high.
At a meeting with department officials, minister S Suresh Kumar said the committee would recommend alternative forms covering teaching, assessment, teacher training and pragmatic use of budgetary resources, among other aspects.
The panel will comprise eminent educationists, experts from the Indian Institute of Science and Nimhans, members of the state technical advisory committee on Covid-19 and representatives of parents, private schools and teachers' associations. It will be asked to submit the blueprint in a month.
The technical advisory committee has warned that the third wave of Covid-19, expected in October, may affect children. In the first two waves, children have been relatively protected. Kumar said he would discuss prevention measures with departments of health and women & child welfare.
Though on-campus learning may start late, textbooks will be delivered in two months. Deeksha App, containing the entire syllabus for PU students, will be unveiled next week. Already, 22,000 echapters of classes 1 to 10 are available on the app. Teachers are being trained on how to use it.
Kumar said the implementation of the National Education Policy (NEP) was discussed at a meeting with the central government on Tuesday. Authorities have been directed to act immediately to implement the required institutional reforms. NEP implementation "in letter and spirit will be at the top of the agenda during the ensuing academic year".
Meanwhile, the dependents of government and aided school teachers who died while on Covid duty will be given financial assistance from the teachers' benefit fund. This was a key demand of the Karnataka State Primary Teachers' Association. Nearly 270 teachers have died of Covid-19. The education department has sought details on how many of them were on Covid duty. According to the association, about 50 teachers passed away in Bidar and many of them were on bypoll duty.
The Sankanuru Committee has been asked to submit a report on renewal/grant of recognition to private schools at the earliest date. This committee was tasked with finding a solution to the problems faced by private schools in getting their recognition renewed. Schools were asked to submit fire safety and building stability certificates.
In another decision, the government has decided to expedite teacher recruitment by completing formalities related to the amendment of transfer rules.
FacebookTwitterLinkedinEMail