BENGALURU: What started as excitement and relief when various boards announced postponement of class 12 exams is now slowly turning into fatigue and stress among city students.
With uncertainty on when and how the exams will be held as the pandemic continues to surge, students feel the academic year is dragging on.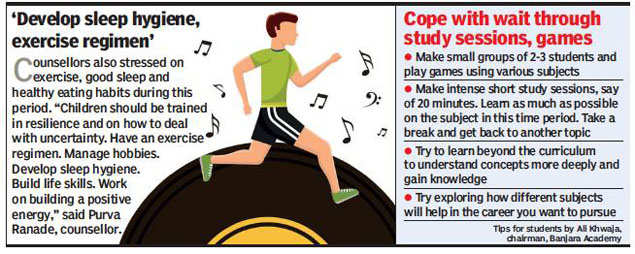 Bhadra Anil, a student of Whitefield Global School, said: "When they announced the decision, I was really happy as I thought I'd get more time to study. But now I do not even know how to plan my studies as there is no clarity on the exams. Last week, I just took a break because I was tired. Sometimes I am really kicked about studying, at other times, it's quite demotivating."
Agreed Deepak Ram, a science student at Harvest International School. "All these days there was a rhythm to the preparation. Now there's a hiccup in the flow. To keep yourself prepared and motivated for an exam about which there is no clarity is tough."
Teens say the lockdown is only making things tougher for them. "We cannot even go out to relax. We now resort to combined study online," said Bhadra.
Schools say students are worried about their future academic plans too. Many of them who have applied to foreign universities are finding the wait taxing. "Students are emotionally drained out. Many schools started class 12 portions in March, some as early as January 2020. It has been 1.5 years and it is dragging on. It's too risky to hold exams. Children are stuck, some of them have withdrawn. It's tough to keep them motivated," said J Bhuvaneswari, principal, Presidency School, Bangalore south.
Psychologists and counsellors say they have been getting cases of students reeling under anxiety due to the uncertainty. "Students need to learn by understanding concepts and not rote learn as they tend to forget faster if answers are just memorised. Have a fixed routine till exams. Spend some time studying and focus on learning some new skills. Parents should be careful not to overstress on revisions as students will be put off by it, considering they have been struggling with it for many months now," said Sulata Shenoy, director, Turning Point, centre for counselling and psychological assessment.