May 21, 2021
/ 04:28 PM IST
Taking Stock | Sensex, Nifty Gain 2% Led By Financials; Midcap Index Hits Record High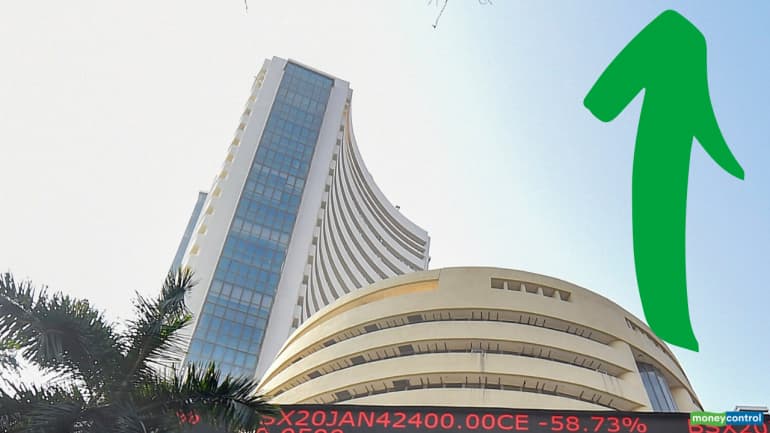 The BSE midcap index touched a fresh record high with nearly a percent gain, while the smallcap index added 0.65 percent.
May 21, 2021
/ 04:19 PM IST
Rohit Singre, Senior Technical Analyst at LKP Securities:
Index opened a day with good gap and managed to hold its bullish stream throughout day with given bullish flag sort of breakout on daily chart which hints bullish momentum can extend further. Index closed a week at 15175 with gains of more than three percent and formed a bullish candle on weekly chart, going forwards 15100-15000 will act as strong hurdle and if managed to sustain above said levels, we may see index to march towards its previous swing high on overall basis also immediate hurdle is coming near 15250-15350 zone.
May 21, 2021
/ 04:17 PM IST
Manish Hathiramani, Proprietary Index Trader and Technical Analyst, Deen Dayal Investments:
We have successfully closed above the 15150 levels. We should be heading higher to 15300 as the next pit stop. The support continues to be at 14700 and this will get upgraded on Monday. As long as this is holding, we are in bullish terrain and can continue buying the dips for higher targets.
May 21, 2021
/ 03:58 PM IST
Rahul Gupta, Head Of Research- Currency, Emkay Global Financial Services:
Overall the sentiments are quite risk-on amid economic revival and reopening of the Western countries. Also, in India the improving trend of moderation in daily new Covid cases is boosting risk sentiments. While, dollar index has continued the downtrend, despite Fed minutes spooked the market on the prospect of Fed tapering and there are less signs of DXY bouncing atleast in the short term. So fx traders will monitor the Covid situation and trend in dollar, and keep the spot within 72.50-73.50 with a negative bias.
May 21, 2021
/ 03:40 PM IST
Rupee Close: Indian rupee has ended at the day's high at 72.83 per dollar, amid buying seen in the domestic equity market. It opened higher at 72.97 per dollar against previous close of 73.10 and traded in the range of 72.83-73.08.
May 21, 2021
/ 03:37 PM IST
S Ranganathan, Head of Research at LKP securities:
Banks led the charge today buoyed by SBI earnings as bulls went on a rampage with stimulus hopes and transfer of surplus by the Central Bank to the GOI kept the street bullish. The broader market too witnessed good activity as the curve of daily corona cases displayed a declining trend.
May 21, 2021
/ 03:34 PM IST
Market Close: Benchmark indices posted a strong gains on May 21 led by the banking and financial stocks.
At close, the Sensex was up 975.62 points or 1.97% at 50,540.48, and the Nifty was up 269.30 points or 1.81% at 15,175.30. About 1909 shares have advanced, 1140 shares declined, and 157 shares are unchanged.
HDFC Bank, SBI, IndusInd Bank, ICICI Bank and Axis Bank were among the top gainers on the Nifty, while losers were Grasim Industries, Power Grid Corp, Dr Reddy's Labs, IOC and Eicher Motors.
All the sectoral indices ended higher with Nifty Bank and Nifty PSU Bank indices rose over 3 percent each. BSE Midcap and Smallcap indices added over 0.5 percent each.
May 21, 2021
/ 03:25 PM IST
Ashis Biswas, Head of Technical Research at CapitalVia Global Research:
The market some swift recovery from its short-term support around the Nifty 50 index level of 14900. The expected level should range between 15000 and 15400, and it's going to be crucial for the short-term market scenario to stay above the 14900 level.
Technical pieces of evidence are supporting bullish momentum. Sustaining above 15000 levels, the market to gain momentum, leading to an upside projection till 15370-15400 level. The momentum indicators like RSI and MACD to turn positive momentum to continue after staying neutral to bearish.
May 21, 2021
/ 03:22 PM IST
Wheels India Q4
Wheels India's Q4 net profit at Rs 26.6 crore versus Rs 2.8 crore and revenue rose 57.6% at Rs 927.4 crore versus Rs 588.6 crore, YoY.
Wheels India was quoting at Rs 510.45, up Rs 18.10, or 3.68 percent on the BSE.
May 21, 2021
/ 03:16 PM IST
Market Updates: Benchmark indices extended the gains with Sensex gaining 1000 points and Nifty above 15150.
The Sensex was up 1,001.93 points or 2.02% at 50566.79, and the Nifty was up 274.70 points or 1.84% at 15180.70. About 1767 shares have advanced, 1087 shares declined, and 141 shares are unchanged.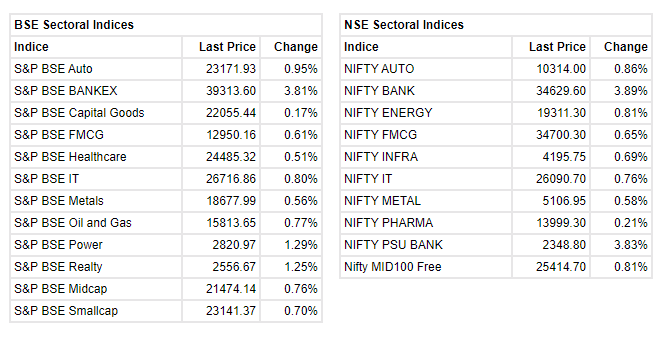 May 21, 2021
/ 03:11 PM IST
South Indian Bank Q4
South Indian Bank's Q4 net profit at Rs 6.8 crore against loss of Rs 143.7 crore and NII was down 5.9% at Rs 560.5 crore versus Rs 595.8 crore, YoY.
South Indian Bank was quoting at Rs 11.28, down Rs 0.06, or 0.53 percent.